Let's face it. The clients for your fitness brick-and-mortar fitness business will not stick around forever. There are various reasons why people drop out. People move away, or family responsibilities make it impossible to be involved in their fitness activities. No matter the reason, the list of your clients will reduce as the years go by.
If this continues unchecked, you might lose many clients, making it harder for the fitness business to function. You can avoid this potential calamity by starting an online fitness business. Launching an online business requires minimal start-up expenses and helps you reach many clients. But how do you start your online business with so many fitness products and services around? Here is how to create a successful online business in 2023.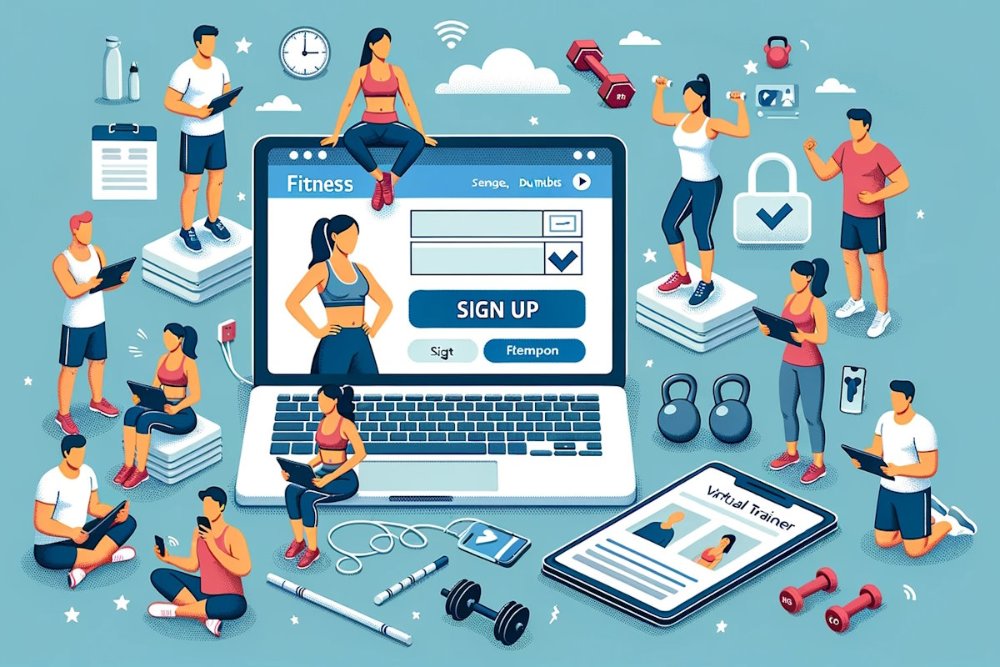 1. Identify a Niche
Identify your niche before starting an online fitness business. The fitness industry is broad and includes muscle building, yoga, weight loss, nutrition, and dance. Choose the area of fitness based on your passion and knowledge.
Once you nail down your niche, identify the target audience you want to serve. For instance, you can offer muscle-building exercises to athletes or teach yoga to moms. It is easier to grow a successful business only by working with a group of people you desire to work with.
When you know the target people to offer your services, create customer profiles for your ideal client. The best way is to think of your current top five clients. Then, write everything about them, including their age, interest, and reasons for buying your services. These five clients will be your ideal clients' customer profiles you would like to target.
2. Create a Business Plan
Like any other business, an online fitness business requires a business plan. A simple business plan that includes the costs you need to operate your business should be enough. Considering your unique selling point will help you build your marketing strategies and other areas of the business plan. A good business plan should include:
Market research: Understand the preferences and needs of your target clients. Besides, studying your competition and identifying market trends will help you differentiate your services.
Business model: Popular online fitness business models are one-on-one, pre-recorded, and group live-stream classes. Choose a model that helps you reach your financial goals. Feel free to combine several models to maximize your profit margins.
Financial projections: Start-up expenses, operating costs, and expected income are part of your business plan. The budget should have your financial strategy for the business activities.
Marketing strategy: The key to the success of your business is to create an effective promotional campaign. It should have social media marketing, content creation, and email marketing. A vibrant marketing strategy that seeks and welcomes promising potential clients should lead to new customers for your fitness business.
3. Legal Considerations
Your online fitness business should comply with all legal requirements. It includes registering your business to ensure it has a unique identity. Two different businesses are not allowed to use the same name. The law prohibits it. This means the business registration office will verify the name to ensure another business is not using it.
Fitness professionals should protect themselves from potential liability issues. Whether you offer fitness services or products, liability insurance is a must-have.
Your business should have terms and conditions for the clients. Privacy policies, refunds, and payments are often causes of conflicts between clients and business owners. Terms and conditions should be clear to prevent this from happening.
4. Choose an Appropriate Online Platform
The success of your online fitness business will highly depend on the platform you decide to use. The right platform should make it easier for you to sell your fitness services or products.
A website is a crucial platform for your online fitness business. It can promote your business and host your content. A homepage, about page, and contact page are pages to include in your website.
Many people visit websites using their mobile phones. Therefore, your online fitness website should be mobile-friendly. Clients with mobile phones or tablets should not find it hard to use the site.
These days, social media platforms have become essential tools for businesses. There are 4.9 billion active users on Facebook, Twitter, LinkedIn, TikTok, YouTube, and other social media platforms. You can reach a larger audience to promote your services or products with social media platforms.
Google Meet, Skype, Zoom, and other video conferencing software are ideal for live coaching sessions. You can deliver one-to-one or group coaching sessions to your clients.
5. Create Content
Whether they are social media posts, blog posts, nutritional guides, or video workouts, create informative and high-quality content. You may write about your fitness journey by including your wins and struggles. It will help to resonate with your audience and position your online fitness business as an industry leader.
The key benefit of informative content is clients will know how to use your fitness products or services. Not only will they appreciate it, but they will also gain knowledge by learning something useful. Only look for people who are excited about your offers and are willing to work toward their fitness goals.
No matter how good your ideas are, there is always a time when clients get tired of reading something. It requires lots of attention. This is why using videos has many benefits.
Videos should educate clients with interesting information and engaging visuals. You can put a lot of information about your offers in one video. Create a 3-5 minute video that drives narratives and catches the clients' attention. Some may be intrigued enough to purchase your fitness services or products.
6. Market Your Business
Create effective marketing strategies to promote your online fitness business. Some strategies to consider include the following:
Search engine optimization (SEO): Increase your visibility on search engines by optimizing your website and content. This makes it easier for your target clients to find your business. The pages should only have valuable content.
Social media marketing: Social media offers your business the most effective and direct way to engage with your clients. Interacting with people will help you get more clients and followers. Likewise, partnering with fitness influencers to promote your services can gain your business many followers.
Email marketing: Send regular newsletters to clients on your email list. Personalize the emails by addressing the clients by name. If you are unfamiliar with the clients, use PhoneHistory to verify their names. It helps you know who you are sending the email to. Use a proper tone to reflect your level of professionalism.
Autoplay video ads: Inform your potential clients about your online fitness business through video ads. Place these video ads on your web page or social media platform. The video content should be simple and short. This is the golden rule! The ad should introduce and explain your offers without any distractions.
7. Conclusion
One thing is for sure. Starting an online fitness business will lead you to financial freedom. You can launch a successful online business by identifying the niche to serve, creating a business plan, complying with the laws, choosing the right online platform, creating informative and high-quality content, and marketing your business.
You can effectively start your online fitness business by following the above guidelines. Remember, an online fitness business is a long investment, and it may take a while to see the desired results. You must be persistent, patient, and focused to become a key player in this business sector.