There are currently more than 100,000 health, wellness and fitness clubs in the U.S. So, if you want to thrive in such a competitive and busy industry, your brand will need to stand out from the competition.
Your potential customers want to know what sets you apart from other gyms or functional fitness studios. And one of the easiest ways of achieving that is by choosing catchy or creative functional fitness class names. Assuming you've already got a creative gym name, ofcourse!
A catchy or creative fitness name will help to create a good first impression while making it easier for you to stand out from the crowd. Simply put, your workout class name is more of a mission statement, compressed into a few words.
So, how do you come up with a catchy fitness program name? Aren't all the cool fitness names taken already? How do you create a cool and fresh workout class name? If you are unsure how to answer any of the above questions, then you've come to the right place.
In this guide, we will provide you with tips on how to choose the perfect name for your fitness brand. We've also compiled a list of some catchy, creative and cool fitness class names, HIIT class names, Crossfit gym names, boot camp names, yoga class names, Zumba class names and cardio class names. Without further ado, let's dive straight in.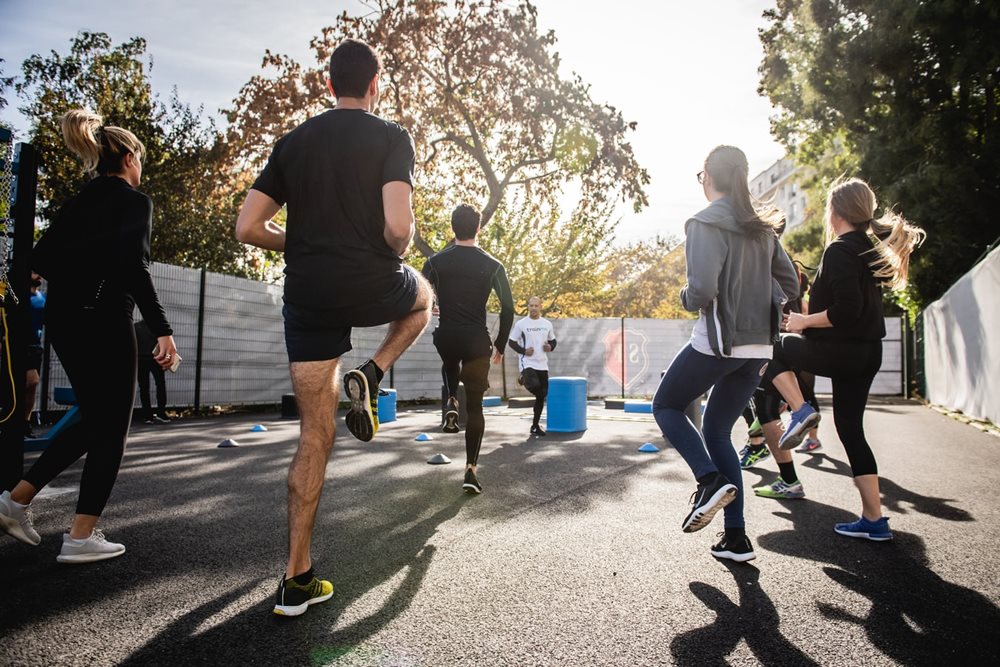 1. Tips for Creating a Fitness Class Name
As noted above, selecting a catchy or attractive functional fitness class name will give you a competitive edge, boost your business and create a recognizable brand for your fitness studio. Here are some tips that can help you to come up with the best fitness class names.
1.1 Avoid Location Specific Names
While you may be targeting potential fitness customers within a certain geographic area, it will be advisable to avoid location-specific names. City names, neighborhoods, states, regions or other location-specific names may limit your growth, especially when you want to expand outside your service area. So, if you are looking to expand your fitness business in the future, then it will be best if you avoid location-specific names.
Furthermore, short training facility names will be easier for voice search to understand and pronounce. Long and complex names, on the other hand, may limit the growth of your business, especially in text-based and voice-based searches.
1.2 Avoid Popular Gym Names
Finding the right name for your fitness business can be a time-consuming and laborious process. And after spending a few hours trying to come up with a unique name, you may be tempted to choose a name that is similar to a popular fitness center or gym. But, you should avoid such temptations at all costs.
First, choosing a name that is somehow similar to a popular gym or fitness center will make it hard to create a unique selling proposition for your fitness brand. Second, if the names are too similar, the other fitness brand may sue you, claiming copyright issues.
1.3 Keep it Simple
Short exercise class names, workout class names and simple strength training class names will be considerably easier for potential clients to remember, as opposed to long and complex names.
Also, short functional fitness class names and simple fitness class names will make it easier to use a short domain name for your fitness club web pages, social media sites and other online platforms.
2. Fitness Class Names Ideas
You may still find it hard to come up with catchy, creative, unique, or fresh functional fitness class names, boot camp names or HIIT class names. If you are facing such a challenge, we've put together a list of some of the best fitness class names for your consideration.
So, whether you are running a fitness boot camp, a Crossfit gym, yoga class, cardio class, Zumba studio or any other fitness-related class, these names can give you the inspiration that you need to come up with a catchy name for your fitness brand.
2.1 Catchy HIIT Class Names
If you are planning to host a high-intensity interval training session or HIIT, you will need to advertise it, to ensure it gains as much visibility as possible. Therefore, you will need to choose a name, which can help your upcoming HIIT session to garner as much visibility as possible. Here are a few HIIT class names, HIIT fitness class names and HIIT class ideas to consider:
Bootycamp
Total Body Reset
Booties and Burpees
Fierce Fest
One More Rep
Super Strength
Don't Stop Until You Drop
Power Play
Super Solid
Way of Life
Strong and Lean
Black Eagle
Super Strength
Made of Muscle
Power Lift
Tough Luck
Body Balance
Power Spread
Stable Feet
Primal Fitness
2.2 Creative Boot Camp Names
Are you looking to set up a boot camp training session this spring or summer? Here's a list of creative boot camp names, catchy boot camp names, catchy boot camp class ideas and boot camp class ideas to consider.
Burn Boot Camp
Peak Fitness Boot Camp
Fit Factory
Rock Star Boot Camp
Muscle Up
Fitness Solders
Body Rock Boot Camp
Fitness Infusion
Step It Up Fitness Boot Camp
Rapid Fit
Hot Mom Fitness Camp
Excess Baggage
Body Up
Waist Removal
Hot Summer Girl Fitness Boot Camp
Picture Imperfect
Fierce and Foxy
Dangerous Curves
Fast Fitness Boot Camp
Pure Power Boot Camp
Ultimate Fitness Boot Camp
Body Blaster
Fast Lean and Fit
Lost Cause
Refuel Fitness Boot Camp
Feet to Inches
Superstar Fitness Boot Camp
Dream Body Booty Camp
2.3 Catchy Class Names
Daily Grind fitness
Fearless Fitness
Function First
Hour of Change Fitness
Elite Training
Essential Fitness
Health Harbor
Catalyst Athletics
Golden Touch Fitness
Own Your Fitness
The Blackout Fitness
2.4 Crossfit Gym Name Ideas
Crossfit Grit
Dueling Crossfit
Olympic Crossfit
Crossfit Insanity
Rocket Crossfit
The Crossfit Lounge
Crossfit Zone
Crossfit Temple
Absolute Crossfit
Cascade Crossfit
Crossfit Beatdown
2.5 Exercise Class Names
Healthy Hustle
The Muscle Gym
Mind Your Business
Adult Fitness
Crunch Fitness
The Complete Body
Phenomenal Fitness
No Limit Fitness
Elegance in Fitness
Focus Personal Training
Seal Team Fitness Class
Golden Physique
2.6 Catchy Yoga Class Names
Are you having trouble finding a name for your upcoming yoga studio? If yes, here are some catchy yoga class names for your yoga studio or class.
Divine Yoga
Pose Palace
Hello Namaste
Yoga Made Easy
Sacred Yoga Classes
All The Time Asana
The Posture People
Yoga to the People
Be a Yogi
The Little Yoga
Lights Off Yoga
Flow and Glow Yoga
Cool and Calm Yoga
2.7 Zumba Studio Names
Encore Dance
Dance Works
All That Jazz
Feel The Beat
Powerhouse Dance
Dance Expressions
Art In Motion
Dance From The Heart
Exclusive Dance Club
Dancaholics Class
Dance Unlimited
Epic Dance Club
3. Finalizing Your Selection Process
At this point, there's a high chance you've already identified several functional fitness class names, which you can use for your fitness camp, boot camp, group class, HIIT class, cardio class, yoga class, circuit training class, Crossfit challenge, weight loss challenge or any other fitness class that you intend to set up.
Once you've identified a few top considerations, you will need to narrow down your list further and check whether the names you've selected are available. To do so, you will need to use the following steps:
3.1 Conduct a Trademark Search
First, you will need to check whether the names on your list are trademarked. If the HIIT class name, yoga class name, senior class name or circuit training class names you've selected are already trademarked, then you cannot use them in a similar capacity.
So, you will need to do a trademark search for each name on your list. And you can do so using the Trademark Electronic Search System (TESS).
3.2 Domain Name Availability
After identifying a list of creative boot camp names, dance fitness class names, cool workout names, group fitness class names, strength training class names, group fitness class names and functional fitness class names that are legally available, you should then check whether the domain names are available.
After all, there's a high chance that you will set up a website for your fitness business, be it a HIIT class, Zumba class, yoga class, circuit training class or any other type of class. So, you should go a step further and check the availability of the domain names. Several online tools are available, which you can use to check the availability of the domain names. During this search, make sure you test as many combinations as possible.
3.3 Social Media Profiles Availability
After confirming the availability of the domain names, you should then take your selection process a step further and check whether there's someone else using your potential fitness class names, boxing class names, training facility names, exercise group names, or functional fitness circuit names. You can check for their availability on your preferred social media platforms like Instagram, Facebook, or Twitter. If you search on these platforms and you don't get any results, then there's a high chance that no one else is using those names. And you can go ahead to set up your social media accounts.
4. Closing Remarks
Choosing an appealing, attractive and catchy fitness name is one of the most important steps to building a robust fitness brand. And as you can see, your options are almost endless. You can either use any of the ideas from our list, use a fitness class name generator or simply come up with a list of your own names. The most important thing is to ensure the name is unique, simple, appealing, catchy and reflective of your brand.