Whether you are a fitness coach, personal trainer, gym owner, fitness equipment vendor or any other fitness professional, it's important to keep up with the latest trends, news, resources, products, and technologies.
And one of the most effective ways of keeping yourself updated is by attending fitness trade shows, fitness expos, fitness conventions, and fitness equipment trade shows. Attending these health and fitness events will allow you to acquire new skills, expand your network, and grow your business, among other benefits.
But with hundreds of fitness trade shows and fitness expos taking place every year, deciding which event to attend can prove to be confusing for most people. And the truth is, you can't attend all these events, going by your busy lifestyle.
So, you will need to carefully choose the right fitness conventions, which align with your area of specialization. The good news is, we've already done that for you. We've compiled a list of the top 10 fitness expos, events, trade shows and conferences that you should consider attending in 2022.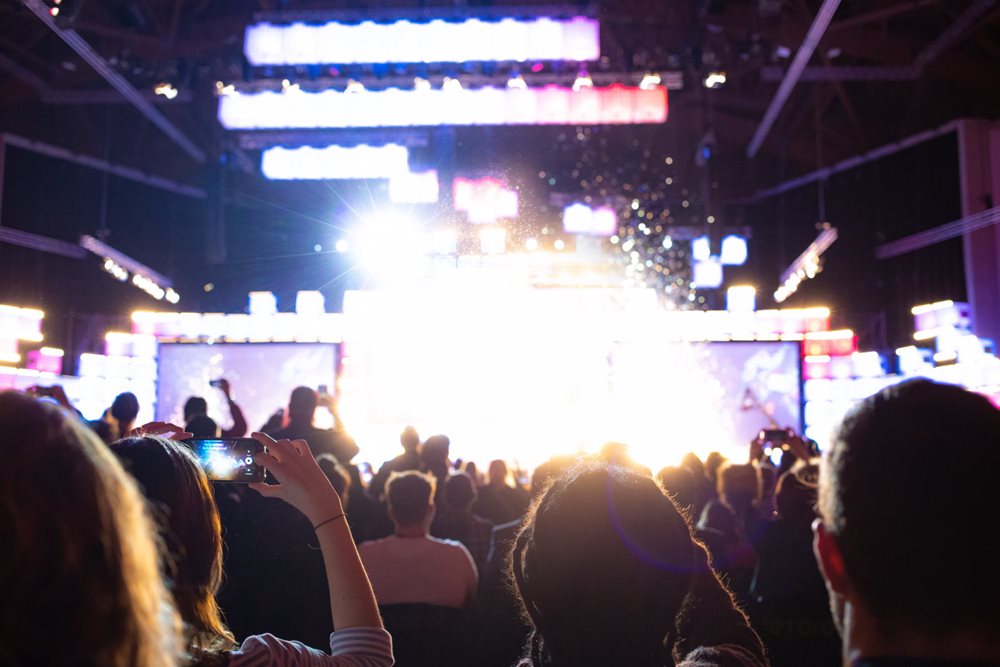 1. IHRSA International Convention and Trade Show
Every year, the International Health, Racquet and Sportsclub Association or IHRSA holds an international convention and trade show. This event brings together almost everyone in the health, fitness and wellness industry.
During this fitness expo, participants get an opportunity to listen to and learn from some of the leading and fitness experts in the industry. So, if you own a health or fitness brand, the insights you will learn during this fitness convention will be priceless.
The IHRSA International Convention also features a fitness trade show featuring some of the best products in the industry. From new fitness software to workout equipment, you will have a chance to sample some great fitness products, which can help to take your fitness business to the next level.
Also, the IHRSA International Convention and Trade Show provides plenty of networking opportunities. You will get an opportunity to meet, interact, and socialize with different players in the health and fitness industry.
Postponed in 2020 due to the pandemic, the IHRSA 2021 will be held in Dallas, Texas, from October 13 to October 15. The dates for the IHRSA 2022 are yet to be confirmed.
2. 2022 ACSM International Health & Fitness Summit
The American College of Sports Medicine (ACSM) summit is held every year in the spring. The goal of this summit is to provide information that fitness professionals can use to enhance their practice. And this is achieved through programming tracks.
There will be 11 programming tracks for the 2022 ACSM International Health and Fitness Summit, covering different topics like:
Engagement through digital platforms
Exercise interventions for various health challenges
Integrating exercise into treatment plans
Fitness management
Exercise programming
Health behavior change and motivation
Professional development
Physical activity for different age groups
Specialty workouts
Worksite health promotion
Trends and updates in nutrition
Participants will get an opportunity to participate in various pre-conferences, panel discussions, lectures, and hands-on workshops, covering a wide range of topics and disciplines.
This health and fitness summit is ideal for personal trainers, health and fitness professionals, students, health care professionals, exercise physiologists, fitness club owners and managers, and any other fitness professional.
The 2022 ACSM International Health and Fitness Summit will take place in Dallas, Texas, between March 31 and April 3, 2022. Registration is currently ongoing.
3. Mind Body Fitness Conferences
Whether you are a yoga student or tutor, attending yoga fitness expos and yoga conferences is always a great experience. You will get a chance to interact and learn from some of the most seasoned yogis. Not to mention the invaluable networking opportunities you will get.
And the 2022 Mind Body Fitness Conferences should be on your list. During this event, you will be joining a diverse and rich community of yoga enthusiasts from all parts of the globe.
These conferences bring together experienced yogis, seasoned teachers, first-time yoga learners, and other stakeholders in the wider yoga community.
Held at various retreats and conferences, these conferences feature yoga workshops, yoga teacher training courses, evening programs, morning masterclasses, and everything else in between. The 2022 Mind Body Fitness Conferences will be held as follows:
Palm Springs, California in January
Alexandria, Virginia in February
Skokie, Illinois in March
Pittsburg, PA in April
Minneapolis, MN in June
Boston and Woburn, MA in September
Alexandria, VA in October
Each of these 2022 fitness conferences provides a wide range of training for all attendees. Registration is currently ongoing.
4. Club Industry Show
Held every year, the Club Industry Show is designed to help fitness business professionals to improve their business operations, provide insights and trends into the future of the fitness industry and inspire business growth.
Each Club Industry Show features several tracks, divided into various segments. These include leadership and management, sales and marketing, personal training, programming, technology trends as well as member experience and retention.
During this health and fitness event, you will learn some of the newest concepts in the industry as well as unique strategies and approaches that will impact your fitness business. The 2022 Club Industry Show will be held virtually.
5. Arnold Fitness Expo 2022
If you are a fan of Arnold Schwarzenegger, then you should plan to attend the Arnold Fitness Expo 2022.
This fitness convention brings together fitness enthusiasts from almost all disciplines. It also features more than 1,000 booths of some of the latest in fitness equipment, sports apparel, as well as nutrition.
Also, this 2022 health and fitness event will feature two stages, hosting a wide range of competitions and entertainment. The 2022 event will be held between March 3 and March 6 at the Columbus Convention Center.
6. IDEA Fitness Expo 2022
The IDEA World Virtual fitness expo returns in 2022. And just like previous events, the expo will feature keynote speakers drawn from almost all areas of the health and fitness industry.
Attendees will get an opportunity to choose from more than 100 different lectures, workouts and workshops, led by some of the brightest minds in the health and fitness industry.
Some of the topics that will be covered in the IDEA Fitness Expo 2022 include personal training techniques, training and exercise science, nutrition and behavior change, small group and boot camp training techniques, fitness business and professional development, mind and body, as well as training using specialized equipment.
And just like other fitness conferences, you will also have an opportunity to network with hundreds of other attendees. The 2022 IDEA World Convention will take place between July 20 and July 24 in Las Vegas, Nevada.
7. International Society of Sports Nutrition (ISSN) Conference and Expo
The International Society of Sports Nutrition (ISSN) Conference and Expo is an annual event mainly designed for people who participate in combat sports.
This fitness convention is aimed at promoting the application of evidence-based nutrition and supplementation in sports.
ISSN is one of the leading organizations globally when it comes to providing science-based and evidence-based nutrition and supplement information in sports.
The 19th annual conference will be held between June 16 and June 18 in Fort Lauderdale, Florida. It's open to anyone with interest in sports nutrition and supplementation.
8. 2022 National Strength and Conditioning Association (NSCA) National Conference
If you are looking for education, inspiration, skills and inspiration in health, fitness, strength and conditioning, then you shouldn't miss the 2022 NSCA National fitness conference.
As an attendee, you will get a chance to connect with fitness experts, industry leaders as well as change-makers. Simply put, this conference will provide you with the perfect opportunity to expand your knowledge, enhance your skills, create new connections and grow your career in strength and conditioning.
The event will take place between July 6 and July 9 in-person and online. The in-person event will be held in New Orleans, LA.
9. SUCCEED Fitness Business Association Conference and Expo
Every year, members of the Association of Fitness Studios or ASF come together to exchange ideas under a fitness expo known as SUCCEED.
During this health and fitness event, attendees get an opportunity to meet and interact with renowned supplies of fitness products and equipment.
The event is open to both current and aspiring gym and fitness studio operators. The 2022 event will take place entirely online.
Some of the topics that will be covered during this event include success post-pandemic, growing your fitness business exponentially, small group training success blueprint and converting fitness business leads into prospects, just to name a few.
10. The FitExpo Los Angeles 2022
The FitExpo Los Angeles 2022 will be a family-friendly event, bringing together fitness enthusiasts from all fields. As its name suggests, this fitness convention will be held in Los Angeles on Saturday, January 8 and Sunday, January 9, 2022.
Participants of previous events have included powerlifters, bodybuilders, karate enthusiasts, competitive athletes, personal trainers, group fitness coaches, and weekend warriors, among others. And you can expect this upcoming health and fitness event to attract a similar crowd.
Participants will meet and interact with fitness celebrities and influencers, discover new health, fitness and wellness products, enjoy free fitness classes, witness live fitness competitions and participate in cooking demos, among other events.
11. Wrapping It Up
As you can see, you have plenty of options to consider if you are looking for fitness expos, fitness conferences or health and fitness events to attend in 2022. You simply need to attend health and fitness events, which align best with your goals and area of specialization.