A unique personal training logo is an essential part of your personal training business. It will considerably boost your personal trainer branding while helping to separate yourself from the crowd.
Also, a personal trainer logo is an interface between your business and your clients. It informs potential clients about the services you offer as well as how you can help them to achieve their fitness goals.
Also, a great personal trainer logo will catch the eye, thus telling potential customers that your services are a worthy consideration. It can be the difference between a long-term client and a forgettable flyer.
Simply put, if you want your personal training business to stand out, be noticed and attract potential clients, then you will need a catchy personal fitness logo. And that's why it's important to take your personal training logo seriously.
In this article, we will take you through the key considerations for the best personal training logos, where to have your personal training logo designed as well as how to get a personal trainer logo free.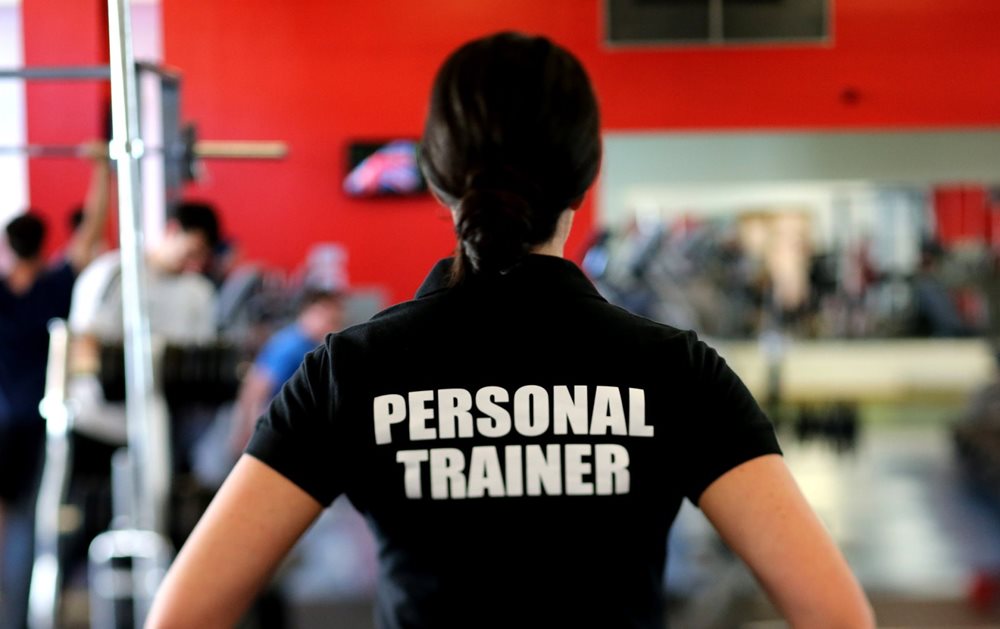 1. Considerations for the Best Personal Trainer Logo
As mentioned above, a personal trainer logo is at the heart of your branding. If you get it right, it will attract potential clients. And if you get it wrong, no one will bother to approach you for personal training services.
Here are some key considerations for designing a great personal training logo, which will help you to attract and acquire new personal training clients.
1.1 Avoid Generic Personal Trainer Logos
If you conduct a simple Google search today for personal training logos, you will notice that almost all the logos that appear in the search results look similar. The most common personal trainer logos right now include:
Pictures of flexed biceps.
Photos of weights, especially barbells.
Images of people lifting weights.
Almost all the personal trainer logos that you will come across will feature one of the above aspects. And you should avoid as much as possible creating a personal trainer logo that appears like everyone else's.
Creating a clichéd personal trainer logo can prove to be seriously detrimental to your marketing. Instead, it needs to stand out from the crowd.
Whether it's on your personal training merchandise, website, Instagram profile or on flyers, it should be distinct and noticeable right away.
Furthermore, a generic personal training logo may cause your fitness brand to be linked with other less qualified personal trainers. And as you may expect, this will considerably damage your brand's reputation.
So, whether you decide to create the logo yourself or you decide to hire a graphic designer, you should ensure the logo is unique, catchy and memorable.
1.2 Ensure It Reflects Your Brand
Different personal trainers offer different services. For instance, some personal trainers offer bodybuilding classes, others run yoga studios, while some high-intensity interval training (HIIT).
Therefore, your personal trainer logo should also reflect the type of services that you offer. For instance, if you run a yoga studio, then your logo shouldn't look like that of a personal trainer who offers lifting classes.
1.3 Make it Symmetrical
As much as you need to design a unique personal fitness logo, you should ensure it's symmetrical. If you look at the logos of some of the most popular brands in the world, like Macdonald's, you will notice the logo is symmetrical.
So, why make the logo symmetrical? After all, can't you just use any format? The reality is, symmetrical symbols and objects are easier to recognized and remember compared to complex ones.
Also, symmetrical personal trainer logos usually create a sense of balance. And it's vital to have proportionality and balance in your designs. Furthermore, symmetrical personal training logos are also visually appealing compared to asymmetrical ones.
You will also notice that a symmetrical logo will not take too much to design. Also, it doesn't need advanced design skills or software. In fact, you can easily create one using something as easy as Microsoft Word.
1.4 Keep Your Personal Trainer Logo Simple
When designing your personal trainer logo, you may be tempted to create a complex one – in an attempt to make your fitness brand appear unique.
But, you should avoid such attempts as much as possible. Instead, focus on simplicity and you won't go wrong. The best logos ever designed are simple and not overworked. Som notable examples include Apple, Adidas, Nike, FedEx, IBM, Exxon, Macdonald's, Mercedes, Unilever and Amazon, just to name a few.
When it comes to words, sounds, and images, the human mind will find it easier to remember something simple compared to something complex. And the same should apply to your personal training logo. Keep it neat and simple.
1.5 Leverage Colors
Colors are extremely important when designing creative personal trainer logos. In fact, the colors on your personal trainer logos have the power to make or break your brand.
For example, if you run a yoga studio, it won't be a nice idea to have a red and black logo, which is commonly used in powerlifting boot camps. For a yoga studio, blue may be a better choice since it reflects security and calmness.
On the other hand, if you run a HIIT studio, blue shouldn't be anywhere close to your logo. After all, you want to communicate aggression, strength and energy. For such a fitness brand, black, orange and red may be the ideal choice.
1.6 Ensure it's Adaptable
You will be using your personal training logo on various platforms and media. For instance, it will appear on your Instagram fitness account and other social media platforms, personal trainer business cards, and promotional materials like banners and fitness flyers.
Therefore, you need to ensure that it's adaptable in a way that you can increase or decrease its size without affecting its appearance or quality.
For instance, if your logo is over-designed, it will appear ugly when you make it smaller and place it on fitness business cards. Therefore, adaptability should also inform your personal training logo design process.
2. Where to Have Your Personal Trainer Logo Designed
Your personal trainer logo should reflect professionalism. And unless you are a seasoned graphic designer, creating a professional-looking personal training logo is next to impossible.
For these reasons, it will be highly advisable to hire an experienced graphic designer to reproduce your vision.
So, where can you find such a person? Well, there are several online platforms where you can easily find and hire an experienced but affordable graphic design. Let's have a look at some options.
2.1 Upwork
Upwork is an online platform, which connects service providers with clients. On Upwork, you can hire a freelancer who can create a professional-looking personal training logo in line with your vision.
On Upwork, you will first need to create a client account. You will then use that account to post a job, indicating what you are looking for as well as your budget.
The graphic designers on the platform will then apply to handle your task. You can select one of the applicants, depending on the number of similar tasks completed before and the customer reviews.
2.2 Fiverr
Fiverr is also a great platform if you want to hire a graphic designer for your personal training logo.
But unlike Upwork, you don't have to post your job. Instead, you can simply browse through the thousands of service providers who are offering graphic design services.
Graphic design services on this platform are quite affordable. In fact, you can even find someone who can create a great logo for you for as low as $15 for a basic logo.
However, if you want a premium, unique logo, then you should be ready to spend more money.
2.3 99Designs
99Designs is an innovative and unique marketplace where you can post design projects in a wide range of niches. In this case, you will be posting a project in the graphic design category.
Once you post your personal training logo design project, the freelancers in that category submit their designs. You can then choose the winning design and pay the freelancer.
2.4 Design Hill
Design Hill is a one-point platform where businesses and individuals can source premium logos for their brands. You can either pick a ready-made logo or hire a designer to create a custom personal trainer logo for your brand.
Design Hill also has an AI-based logo maker, which is free to use for everyone. Whether you have logo design skills or not, this tool can help you to create a personal training logo free.
3. How to Get a Personal Trainer Logo for Free
If your personal training business is still in its infancy stages, you may not have the funds or resources needed to hire a professional graphic designer on the online platforms listed above.
But, it doesn't mean you've run out of options. You can still get a personal trainer logo for free by designing it yourself. However, you will need to have graphic design skills if you are to come up with a professional-looking personal training logo.
You can do so by using an online gym logo maker or designing one using tools like MS Word, Paint or Adobe Illustrator.
4. Closing Remarks
Personal trainer logos are central to your fitness business. If it's poorly designed, it will undermine your brand's credibility and professionalism.
On the other hand, if it's unique, catchy and stylish, it will boost your brand's reputation considerably. So, if possible, it will be highly advisable to hire a professional graphic designer who will create something stylish and unique.
But if you have a graphic design background, you can also create one yourself using any of the available tools and platforms.
If you decide to do it yourself, make sure you conduct adequate research, study other logos and then come up with something simple, visually appealing, and easy on the eye. It should also convey your brand's messaging positively.