Inspirational yoga quotes and yoga motivational sayings are sometimes what you need to enhance your yoga practice. Also, motivational quotes for yoga can provide a link between your yoga practice and your life.
Yoga quotes can also help you to get motivated or inspired, whether you've been doing yoga for decades or you've just started your practice.
If you are a yoga teacher looking to inspire your students or simply someone who lives the yoga lifestyle, this article is just what you need.
These sayings about yoga can motivate your practice, inspire yoga students, or use them as content for your social media platforms like Instagram.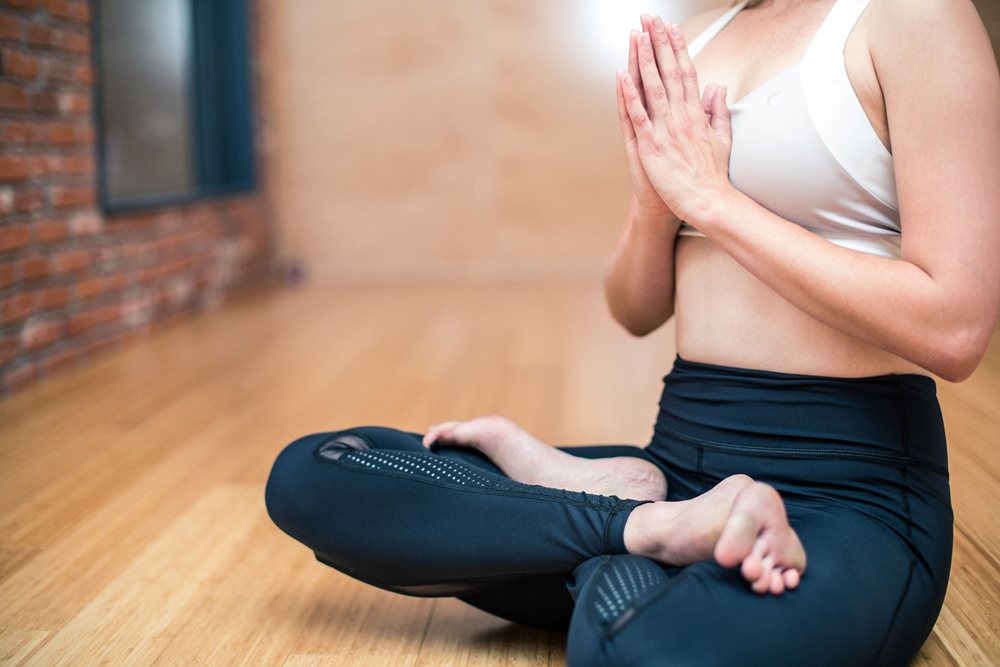 In this article, we've compiled some of the best yoga quotes and sayings, which will inspire and motivate you, regardless of the type of yoga that you practice or your mood.
1. Inspirational Yoga Quotes
Yoga is not simply about stretching until you touch your toes or trying to accomplish complex postures.
It's more about understanding your body more and experiencing inner peace and calmness.
To this end, we have compiled a list of inspirational yoga quotes, which will encourage, motivate and inspire you on your journey of self-discovery through yoga:
If you want to live a healthy and peaceful life, you should make yoga a habit.
Yoga will give you all you need to maintain balance in your life.
Yoga is the simplest form of fitness. You just need your mind and your body.
Yoga is a journey of self-discovery.
You cannot always control what's going on around you, but you can always control what is going on inside through yoga.
Yoga will not change the way you see things. It will transform you.
The body is your temple; you should keep it clean and pure for your soul to live comfortably.
Yoga will add life to your years and years to your life. Do it consistently.
Once you start doing yoga every day, you will become the best version of you.
Yoga will help you cultivate inner peace, joy, vibrant health and self-acceptance.
Yoga provides the perfect opportunity to determine who you really are.
You will only begin to enjoy the real benefits of yoga once you step outside your comfort zone.
Yoga is not a religion, a cult or a fitness trend. It's a way of life.
You will only become firmly established in your yoga practice after attending to it long enough, without interruption.
If you practice yoga enough, the practice will change to suit your needs.
Your body will benefit from movement while your mind will benefit from calmness.
The yoga pose you've been trying to avoid the most is the one you need the most.
As long as you can breathe, you can do yoga.
Yoga begins right where you are, not where you were yesterday or where you intend to be tomorrow.
Yoga is the practice of calming your mind.
Yoga is not about mastering poses; it's about using those poses to understand yourself and transform your life.
2. Funny Yoga Quotes
As much as yogis are always committed to health and wellness, it doesn't have to be that serious. You can still have a sense of humor while remaining dedicated to your yoga practice.
And while it's easier said than done, our collection of funny yoga sayings and yoga funny quotes can help you relax and unwind. So, before you head out for your next yoga session, take a moment to go through these, and you will leave the house with a smile on your face:
Yoga is about spending an entire session trying not to fart.
Some days you will eat salad and hit the yoga studio. Other days you will eat pizza and just stay at home. It's all about balance.
If everyone did yoga, the entire world would be at peace today.
Life may throw challenges your way, but there's always a yoga pose for every challenge.
Yoga is about being happy and healthy, not about perfecting a pose.
Smiling is basically mouth yoga.
Feeling stressed? Undress and put on your yoga pants.
When in doubt, just do yoga.
How do you get a yoga body? You already have a body. Simply do yoga.
First, do yoga, then attend to other things.
Adulting would be impossible without yoga.
3. Balance and Strength Sayings
If you want to become a mentally, physically and psychologically balanced person, regular yoga practice will be ideal for you.
With that said, here are some yoga strength quotes and yoga quotes about balance to help you get started and stay committed to your practice:
Yoga is all about harmony and balance. It blends hot energy with cold energy, feminine with masculine, strong with soft.
Becoming flexible should not be your end goal. Holding a pose for several minutes is not the end goal. Your goals should be to find inner peace and serenity.
Regardless of the condition you are in or the position you are in, you must find balance. And yoga is the way to do it.
Everyone wishes for world peace. But, we first need to create peace within our own minds.
Conquering yourself is 100 times better than winning 100 battles.
Yoga is about getting rid of all the clutter that's preventing you from living your life wholesomely.
If your mind is controlling you, then you are a slave. But if you can control your mind, you will experience freedom.
Yoga will take you close to your true nature. It will help you to discover who you are and what you can achieve.
Your body, mind and emotions are all instruments. The way you tune and align them will determine how well you will play life.
Yoga is about finding your peace, balance and serenity, in a crazy, noisy and chaotic world.
True yoga is not about how much physical strength you have or the shape of your body. It's all about the shape of your life and your mental strength.
Possessing mental strength and calmness is a sign of balance.
Yoga is the perfect path to freedom. With constant practice, you can free yourself from anguish, loneliness and fear.
Yoga is not simply a workout. It's more about working on yourself.
If you have been wounded by life, let yoga be your healer.
Yoga may not always cure stress. But it will neutralize it by changing self-perception and strengthening you to deal with it.
Yoga is not about perfecting poses and postures. It's about what your body will learn, how flexible you become, how mentally strong you become and the experience that you gain throughout your practice.
4. Yoga Teacher Quotes
If you run a yoga studio or an online yoga instructor, it's important to keep your students motivated every day.
After all, if they are not motivated, they will not show up for the next session. And you may eventually find yourself with an empty class.
So, how do you keep your yoga students motivated and inspired? Well, don't stress over it. We've done the heavy lifting for you and crafted a list of inspirational quotes for yoga teachers.
These quotes for yoga teachers will help to inspire and motivate your students, regardless of whether you run physical or online yoga classes:
When you find your inner peace, you will be the type of person who can comfortably live peacefully with others. - Peace Pilgrim
You either get better or bitter. It's that simple. You have the option of taking what life has dealt you and using it to become a better person, or you can give in to it and allow it to tear your life apart. The choice is yours, not fate's. - Josh Shipp
We are all looking for happiness. And you can easily find your much-needed happiness in yoga. - Sri Sri Ravi Shankar
When you push for instant healing and immediate results, you will never enjoy the journey. And that's where most of the learning and growing happens. - Bo Forbes
You will get inner peace immediately you stop allowing outside events or other people to control your emotions. - Pema Chodron
There's always someone who will do something better than you. And you shouldn't stress over it. See it as inspiration, and not competition. - Kathryn Budig
Meditation is a way of blossoming, nurturing and nourishing the divinity within you. - Amit Ray
5. Wise Quotes Related to Yoga Practice
Regardless of how committed you are to your yoga practice, you may sometimes find it hard to motivate yourself and get on the mat.
If you happen to find yourself in this situation, these quotes about yoga practice will motivate and inspire you to get on the mat and stay focused:
The yoga session you want to avoid the most is the one you need the most.
Your body is your slave. It works for you. Not the other way around.
Feeling like doing nothing today? Do yoga, anyway.
Yoga is the perfect way to start a dreary day.
The above yoga practice quotes and inspiring yoga quotes will inspire and motivate you, helping you to stay focused. And if you are a yoga teacher, the above motivational yoga quotes will not only boost your practice but posting them on Instagram will help to grow your following.
Summary
Did you like these yoga quotes?
Can't get enough of'em and want more?
Then check out these motivational fitness quotes and these gym quotes for Insta!