You've finally earned your personal trainer certification and you are looking forward to building a successful personal training business. But to build a successful personal training business, you will need a decent number of high-quality clients.
And this means you need to find ways of getting clients. Fortunately, there are several tactics, techniques and strategies, which you can use to market yourself, promote your personal training business and land personal training clients.
In this article, we will explore 8 marketing ideas for personal trainers, which you can use to promote your fitness business, boost your visibility, and land you more clients. So, if you've launched your personal training business and you are wondering how you can get clients, this article has got you covered.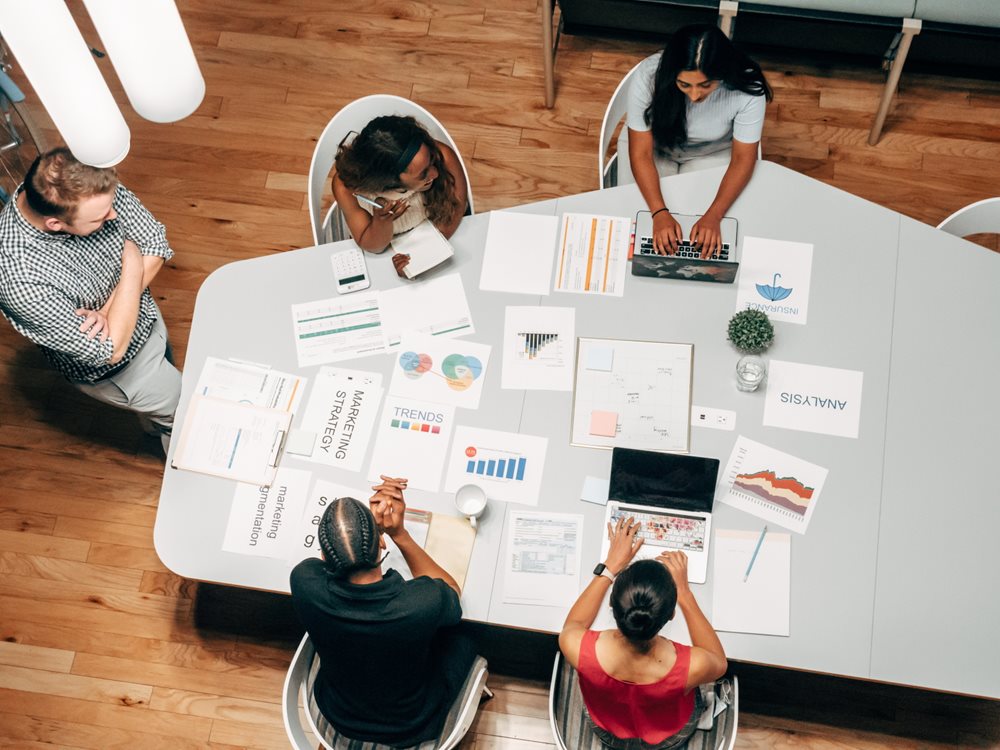 1. Post Multimedia on Social Media
According to a recent survey, there are approximately 4.6 billion social media users, which translates to approximately 58% of the world population. Hence, having a presence on social media is a must when it comes to marketing your personal training business.
However, simply opening a profile on different social media platforms will not be enough. You will also need to ensure that you consistently and frequently post high-quality and engaging content. And this is where multimedia, such as graphics & videos, come in.
When posting graphics, make sure to use editable templates, to make you look like a professional. Take our 300 template Canva bundle, for instance.
Creating and posting workout videos on social media can be an extremely powerful method of marketing and promoting your personal training business. Videos will give you an opportunity to show your target audience what it's like to train with you.
Also, such videos will help to build trust, establish genuine relationships with your target audience and boost the sign-up rate of your personal training memberships. And creating workout videos isn't a complicated or expensive process. You can easily do so using your smartphone together with a few editing tools.
2. Offer Discounts
When you are starting out as a fitness coach, you will need to find ways of incentivizing potential clients to sign up for your memberships. And offering discounts and other similar deals is an effective means of doing that.
For example, if you offer a 10-class pack personal training package for $200, you can instead offer it at a 50% discount for new clients, meaning you will only charge $100 for the package. You also have the option of offering unlimited personal training sessions for a fixed price of $200.
But, this doesn't mean that you should always be offering discounts. Offering too many discounts or slashing your prices too much will affect your finances negatively.
Furthermore, if you are always offering discounts, your target audience may think that your services are sub-standard or they can get discounts at any time. And this will damage your brand's image. So, make sure you place time limits on your discounts and avoid lowering your pricing too much.
3. Launch a Fitness Blog
Studies show that approximately 77% of internet users read blogs. And this also includes your target audience. Hence, blogs remain one of the most powerful methods of content marketing.
Launching a blog will help you to attract fitness clients, who may be looking for fitness hacks and tips. Also, a fitness blog will allow you to show off your knowledge and expertise in the fitness industry, thus helping to boost your credibility.
Furthermore, a blog will also help to drive and retain traffic to your landing pages, which will ultimately lead to sign-ups. So, blogging should be part of your personal training marketing strategies.
Once you've launched your fitness blog, make sure it's properly optimized for search engines, a practice known as search engine optimization or SEO. With the right optimizations in place, your fitness blog will outrank your competitors and boost your online visibility, thus helping to drive more traffic to your site.
4. Run Ads
Another personal training marketing idea that you should explore is ads. With the right positioning and targeting, ads can help to boost your reach and drive sales. Also, they deliver a higher ROI, when you compare them to the organic posts.
And, you have several options to explore when it comes to ads. Some of the platforms that you can use to run ads for marketing your personal training business include Facebook, Google, and YouTube.
4.1 YouTube Ads
YouTube users are currently consuming approximately 1 billion hours every day. Furthermore, 60% of people prefer consuming content from online video platforms like YouTube, instead of TV. Therefore, running YouTube ads can be a powerful means of generating maximum exposure for your personal training business and attracting clients.
With YouTube, you have full control when it comes to ad placement. For instance, you can choose the exact video or channel where you want your ads to be placed. As a result, you will be able to target the right audience, your ads will be more effective and you will get value for your money.
4.2 Google Ads
Apart from YouTube ads, Google ads are also a highly effective method of marketing your personal training services. They provide a cost-effective means of reaching a target audience.
For instance, you may be a personal trainer based in Dallas, Texas. When a potential client searches for a personal trainer in Dallas, Texas, your website will appear at the top of the search engine results page, if you are running Google ads.
And, by appearing high on the search engine results page, it's highly likely that the potential client will click through and visit your website. If they are impressed by what they see, they may end up getting in touch with you and signing up for your memberships.
5. Collaborate With Local Businesses
Collaborating with local businesses is yet another easy and effective marketing idea for your personal training business. So, how exactly does this strategy work and how can you use it to get more clients?
First, you will need to approach local businesses, which may be selling products or offering services related to fitness, health and wellness. Once you identify such businesses, you will then propose a partnership whereby you will be referring clients to each other's businesses.
For example, you can approach a local store that sells workout sneakers or training clothing. You will then introduce yourself and discuss with the shop owner about cross-promoting each other.
In this case, if you come across a prospect that's looking for workout sneakers, you will recommend that business. At the same time, if the shop's client asks them to recommend a personal trainer, they will send that client your way. Besides word-of-mouth referrals, you can also be cross-promoting each other on social media platforms.
Local nutritionists, chiropractors, physiotherapists, grocery stores, fitness equipment stores and spas are examples of other businesses that you can approach to discuss cross-promotion arrangements.
6. Host a Free Fitness Session
You should also consider hosting a free fitness session. Hosting a free fitness session comes with two main benefits. First, you will get an opportunity to demonstrate your skills to potential clients and interact with them one on one.
Second, hosting a free fitness session will help you to collect the contact details of the attendees. And, you can then use the phone numbers or email addresses that you've gathered during this session to nurture these leads and prospects into paying clients.
You simply need to identify a spacious venue, which can be a rooftop bar or restaurant, a car park, a local brewery or any other space that you can manage to get. You will then invite everyone for a free workout session, which will be followed by some drinks and snacks.
Once the training session is over, you can then give the attendees swag bags, featuring various freebies as well as your business cards and flyers. By doing so, you will not only put a smile on the attendees' faces but it's likely they may decide to check out your services or recommend your business to their close associates.
7. Distribute Flyers and Pamphlets in Local Businesses
When it comes to marketing their personal training businesses, most personal trainers tend to focus only on digital methods. However, old-school, offline marketing methods like distributing flyers and pamphlets remain equally effective. And, you can't afford to ignore or overlook them. Besides, these methods are highly affordable.
To this end, you will need to identify where your target clients tend to hang out or spend their free time. Such places may include coffee shops, juice bars, barbershops and salons, health shops, or local bars.
Once you've identified where they hang out, you should then create several business cards, flyers and pamphlets, and then leave them in places where your target clients can see them. And, you can rest assured that you will end up fielding a couple of calls from prospects.
Distributing pamphlets and flyers to local businesses is a free marketing and advertising method for your fitness business. Besides, it's easy to execute. So, you shouldn't overlook it.
8. Host a Contest or Giveaway
Human beings are naturally attracted to free stuff. And for your personal training business, giveaways can help to create a positive image around your brand while helping you to gain new clients.
For this personal training marketing method, you will simply need to host a contest, where the winners get to walk away with gifts such as free memberships, money or fitness-related products like health supplements, workout gear, gym bags, towels, or water bottles.
9. Wrapping It Up
Marketing your personal training business doesn't have to be a complex process or an expensive affair. There are several cost-effective and easy-to-implement methods, which you can use to market your services and get personal training clients. You just need to try out the different methods we've outlined here and then choose those that deliver the best results.