For some people, going to the gym and staying committed to their fitness routine comes naturally, like sleeping and eating. For such people, remaining committed to their workout routine is an important part of their life.
But for most people, starting or consistently follow a fitness program is not easy. And if you are a personal trainer or fitness coach, there's a high chance you've already encountered that situation.
For example, you may have come across some members who sign up and quit after a few days. Also, you may have encountered others who only attend a handful of sessions in a month.
The reality is, most people who sign up for personal training classes or those who don't follow the programs consistently mainly do so due to a lack of motivation and inspiration. And if you don't find a means of motivating your students, you may eventually find yourself with an empty class.
So, how can you motivate your personal training students to follow their training and workouts religiously? Well, you can easily do so using uplifting personal training quotes and sayings.
In this article, we will share with you personal trainer quotes, fitness coach quotes and fitness instructor motivation quotes. You can then share these personal training motivation quotes on your social media accounts or send them with your weekly newsletters.
You might also like our other quote pages: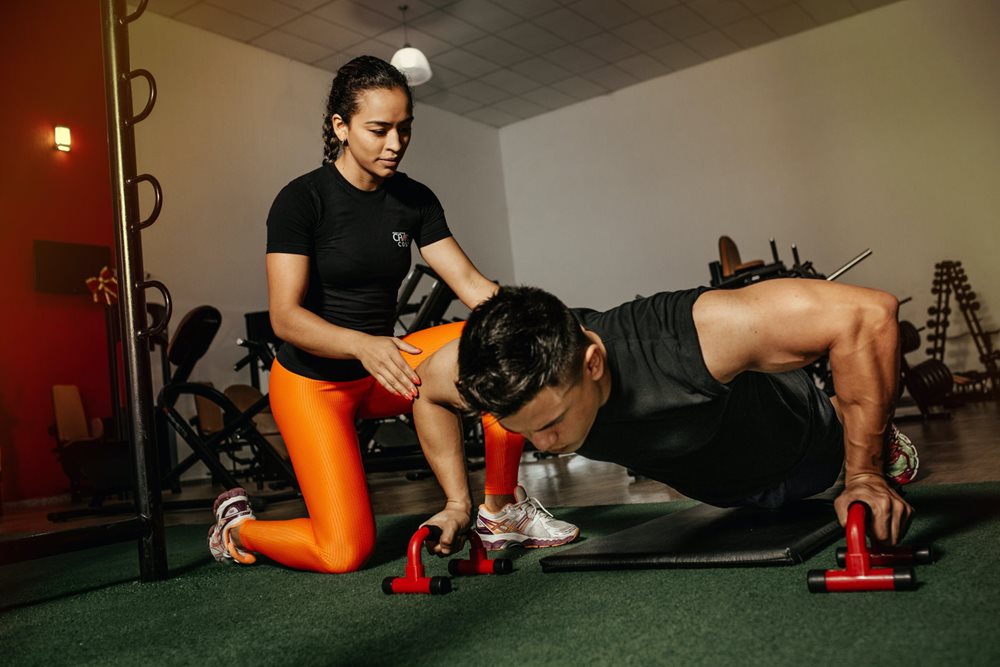 1. Motivational Fitness Quotes
As mentioned above, getting to the gym is not always easy for most people. Also, staying on track is also harder, especially for those who are not used to working out.
These personal training motivational quotes and fitness coach quotes can help to inspire your students and motivate them to pursue their fitness goals.
A year from today, you will wish you had started your fitness journey and stayed the course.
It may hurt you today, but you will be stronger tomorrow.
Motivation will get you started, while habit will keep you going.
You may hate every minute of your training. But, you should never consider quitting, regardless of how tough it gets.
If it's not challenging you, then it will not change you.
You either have results or excuses. But you can't have both.
To keep your body in great health is your personal duty. If you fail to do that, you will struggle to keep your mind clear and strong.
Your body will achieve what your mind will believe.
Fitness is not about trying to be better than those you train with. It's all about being fitter than you used to be.
You may not always love your workouts but you will love the results.
If you are always saying you don't have time for working out, you will have to create time for illness.
You don't train to add days to your life. Instead, your workout to add life to your days.
The goal should be to compete with yourself, not with others.
If you fail to do what's best for the body, you are setting your body up for failure.
Your desire to change your fitness levels should be greater than your desire to remain the same.
You will never know what your body can do, unless you are willing to push yourself to the limits.
Muscles work like cars. If you want them to run well in the morning, you must be ready to warm them up first.
If you can achieve victory over your body, no one in the world can exercise power over you.
No matter how many times you come up short during your workout or how slow your progress is, you are much better than everyone else who hasn't started.
You can feel sorry tomorrow or sore tomorrow. It's your choice.
2. Funny Personal Trainer Sayings
As much as you want your fitness students to take their training seriously, it doesn't hurt to share a few funny personal trainer jokes occasionally.
Personal trainer funny quotes can help to increase motivation for your personal training students while making the sessions even more fun. Here are a few funny coach sayings to choose from:
Unless you die, faint or puke, you should keep going.
It's your workout. You can cry if you want to.
If fitness came in a bottle, every person would have a killer physique.
If you are still looking cute after your workout, you probably didn't push yourself hard enough.
The only BS you should need in your life is breakfast and squats. Nothing more, nothing less.
Train like a beast and look like a beauty.
Aspire to be a MILF: Mom In Love with Fitness.
If it were not for the refrigerator and the TV being apart, most people wouldn't do any workout at all.
Keep yourself healthy, so you can use your wealth to purchase pleasures, not medication.
3. Personal Training Philosophy Quotes
As a personal trainer or fitness coach, there's a high chance that you also get one of those days when you don't feel like working out.
But, you have to keep pushing and inspiring your students. Here are some fitness philosophy quotes that can give you the nudge you need to hit the gym, work out and become a better fitness coach:
If you want a different day, then you should be ready to push yourself further than yesterday.
Will it be easy? No. Will it be worth it? Definitely.
Your body can accomplish almost anything. It's your mind that you need to persuade.
You are going to achieve your fitness goals if you are persistent. And you are going to keep pushing if you are consistent.
You may not like lit, but be ready to struggle for it. Whatever may feel challenging or tough today will be your warm-up tomorrow.
Life has its ups and downs. And they are called squats.
Every day is another chance to transform your body and become a fitter version of yourself.
Whether you think you can crack that workout or you think you cannot, either answer is right. It all depends on your mindset.
4. Famous Training Quotes
Quotes from famous fitness experts and famous training quotes can act as a great source of inspiration.
Also, quotes from some of the most famous personal trainers can motivate you, your clients and your fitness Instagram followers to keep working out. Here are a few famous training quotes that you may find effective, inspiring and enjoyable.
Motivation will get you started, but it's habit that will keep you going. – Jim Ryun
You may hate every minute of your training, but you shouldn't quit. You will suffer now but you will live the rest of your life as a champion. – Muhammad Ali.
If it's not challenging you, then it will not change you. – Fred Davito.
Health is wealth. If you are in poor health, then you've got nothing in this world. – Peter Lehman.
Living a healthy lifestyle is not a goal. Instead, you should treat it as a way of living. - Rob Byron.
Once you build a strong mindset, your body will instantly follow. – Tony Jaa.
Some people may be more talented than you may. However, there should be no excuse for others to work or train harder than you. – Derek Jeter.
It's not the size of the man that matters. It's the size of his heart. – Evander Holyfield.
There are only two options when it comes to commitment. You are either fully in or fully out. There's nothing like an in-between. – Pat Riley.
Fitness is not about being better than everyone else. It's all about being better than you were yesterday. – Khloe Kardashian.
5. Personal Training Slogans
Some of your personal training clients may sometimes lack the motivation to continue attending your personal training sessions. And it can happen to anyone. So, how do you inspire and motivate them not to give up on their fitness journey?
Well, you can start with something as easy as posting personal training slogans on your social media accounts. These personal trainer slogans can help to encourage your clients and your followers to take action.
Better body, better life.
Train in confidence, believe in yourself.
Fit looks good on everyone.
Hard work equals big results.
Sore today, stronger tomorrow.
Be the best version of you.
Fitness is a lifestyle, not a trend.
Get in the best shape of your life.
Learn to defend yourself.
Sweat in style, feel the difference.
Health is a priority.
Get toned, strong and safe.
Live better with fitness.
Willpower knows no obstacles.
Get in, get fit and get on with life.
6. Closing Remarks
As a personal trainer, you want your personal training clients to be 100% committed to their fitness programs. But, it may not always happen. Somewhere along the way, some of your clients may lose the motivation to keep attending the sessions completely while others may be skipping some sessions. But, you shouldn't wait for that to happen. You need to keep inspiring and motivating your personal training clients to remain committed to their fitness programs. And you can do so using the above personal training quotes and sayings. You can use them as social media posts, incorporate them into your weekly newsletter, or use them in any way that can reach your clients.