As a personal trainer or group fitness instructor, you will sometimes come across clients who may want to participate in your fitness classes but may not be in a position to attend in-person workout sessions. You may also be looking to teach more students, but the available space in your gym is hindering you from doing so.
Fortunately, offering online fitness classes can help you to overcome all these challenges. With online fitness classes, you will be in a position to offer your services to anyone, not in a position to attend in-person workout sessions. Also, virtual fitness classes will enable you to expand your client base.
However, teaching online fitness classes is not the same as in-personal workout sessions. It involves several moving parts, and it can feel overwhelming, especially if you are doing it for the first time. Besides, several things can go wrong, if you don't plan well. But, we've got you covered. Here are 9 tips for teaching online fitness classes, to ensure your sessions go smoothly.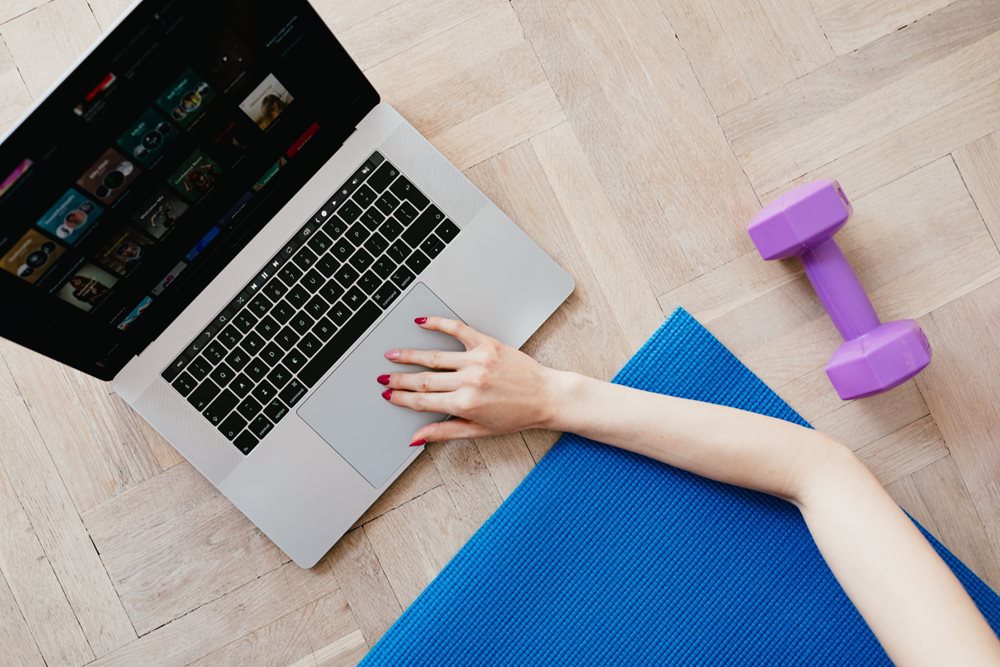 1. Test Your Set-Up In Advance
It will be highly advisable to test your set-up beforehand, to ensure everything is working smoothly. Testing everything in advance will help you to identify any issues that may hinder you from delivering a successful online fitness class.
Without this test, you may end up encountering some problems along the way. And, it's highly likely that some of the attendees may lose the motivation of attending your online fitness classes in the future.
So, ensure you check whether your sound is working properly. Also, you will need to familiarize yourself with the platform you intend to use to stream your online fitness classes. The last thing you will want is to waste time unnecessarily, trying to remember your login information.
You should also check your internet connection if you will be streaming the session live. You want to ensure your internet connection is stable. If the connection keeps dropping, there's a likelihood some people may log out of the session, and never come back. And, you want to avoid that at all costs.
You can even share the event's link with one of your friends or family member thirty minutes before the session starts, to confirm for you whether everything is working properly from their end. And by the time your clients join the session, you will have already set up everything, ready to start the session.
2. Set Up Proper Lighting
Your clients will only be able to follow your workout sessions if the room you are using is properly lit. So, make sure you set up the proper lighting. If you will be hosting your workout session during the day, then you can simply opt for natural lighting.
If the room you will be using has bright spaces, then you should consider hosting your session in the early morning hours or evening. However, if the room doesn't get adequate natural lighting, then you should consider hosting your session in the middle of the day.
In case you are not in a position to host your session during the day due to other commitments or the attendees' availability, an evening session can still work. You simply need to set up proper artificial lighting.
3. Film the Video in Optimal Settings
If you will be using your phone to capture the video, you should use the rear camera instead of the front one. For most smartphones, the rear camera's quality is usually better than the front one.
Also, ensure you film in landscape mode, instead of portrait mode. Considering that almost everyone will be playing the video on their TVs or computers, landscape footage will align best with the orientation of these devices.
You also need to check the video quality. Ideally, you should shoot in 1080p. With 1080p, you will end up with quality footage and it will not slow down your streaming. Besides, the 1080p video will not consume too much space on your storage devices, compared to higher qualities like 4K.
4. Keep the Space and Background Simple
The background and space that you choose when teaching your online fitness class should be simple. At the end of the day, you want to be the center of attention during the session. So, anything that can distract your audience is unwelcome.
To this end, you need to remove all the clutter in your room or anything else that doesn't add value to that session. If possible, the background should be solid or minimally decorated.
Also, the room you choose for teaching the online fitness class shouldn't have background noises. Such noises may interfere with your filming or make it hard for the attendees to hear what you are saying.
For instance, if you have a dog that tends to bark unexpectedly, you should keep them in a comfortable place, away from where you will be hosting your online fitness classes. Also, make sure your phone ringer is off so that it doesn't interfere with the audio when filming.
In case you can't find such a room in your home, you can rent out space in a nearby studio or community center. The fewer distractions you have, the easier it will be for your clients to follow your session, leading to a smooth experience.
5. Ensure the Camera Is Properly Set Up
Whether you will be using a phone or camera when teaching your aptly named online fitness classes, you should ensure it's placed on a stable, flat surface. This will help to prevent shaky footage, which can lead to a negative user experience.
Ideally, you should have a tripod stand, which will hold your phone or camera in place, to prevent shaky footage. But, in case you don't have a tripod stand, you can simply position your phone or camera on a flat surface like a table or desk, and then lead it against something sturdy.
Also, you should place the camera or phone in a way that it can capture your whole body during the entire session. So, whether you move from one side to the other, jump or undertake other maneuvers, the video recording device should be positioned in a way that will capture your whole body the entire time.
6. Choose Appropriate Attire
The attire that you choose when teaching fitness classes online has an important role to play in the overall success of your session. So, which is the best attire for teaching online fitness classes? Here are some tips to guide you:
First, you should choose attire that has solid colors, which will contrast the room's background. Also, it should be form-fitting. Wearing contrasting and form-fitting attire will make it easier for your clients to follow your workouts.
Second, the attire should be appropriate for the session. You don't want any part of your attire falling off, exposing your privates during the middle of the session. So, ensure the attire that you choose is appropriate for all types of workouts, exercises and movements.
7. Choose Your Music Carefully
If you intend to use background music when teaching fitness classes online, you should make sure you select the songs well in advance. Also, ensure the songs you select align with the workout's tempo. Furthermore, the language should be appropriate for the audience. It will also be advisable to secure the necessary licenses for the music you intend to use.
Alternatively, you can create a public playlist and share the link with the participants before the class begins. You can also request the participants to create their own playlist, to avoid DMCA issues.
8. Engage Your Audience
When teaching online fitness classes, you want your clients to remain focused from the start to the end. And one of the most effective ways of achieving that is by constantly engaging them throughout the session. For instance, you can request them to leave comments on the video.
Also, engaging your audience during the session will not only help to keep them focused, but may also help you to deliver a better session. For example, if your sound is accidentally muted or something you had noticed is blocking the video recording device, the attendees will point out that in the comment. And, you can correct the issue as soon as possible.
Furthermore, some of the attendees may also use this opportunity to request you to modify a certain workout, in case it's proving too hard for them. This way, no one will be left behind.
Simply put, engaging your audience when teaching fitness classes online comes with numerous benefits. It will not only help them to remain focused by you will also be in a better position to catch and fix issues soon enough.
9. Speak Clearly and Slowly
As earlier mentioned, your audience will only be able to follow your workouts, if they can hear you clearly. So, besides eliminating anything that may distract your audio, you should also speak clearly and slowly.
Speaking clearly and slowly will make it easier for everyone to follow the various movements you are demonstrating. At the end of the day, you want every attendee wants to get the most out of your online fitness classes and get value for their money. And, that will be impossible, if you are speaking too fast or moving too quickly.
10. Wrapping It Up
Teaching online fitness classes provides a convenient way of helping your clients to stay in shape and keep working towards achieving their health and fitness goals. While it may appear hard or overwhelming at first, the above tips will help to make things a bit easier for you, when you are starting out. And with regular practice, continuous learning, and resilience, you will eventually master how to teach fitness classes online, making your sessions more productive and enjoyable.