Whether you are looking to open a yoga studio, become a freelance yoga teacher, host a yoga retreat or set up online yoga classes, you will need to have a good yoga business plan and marketing plan in place.
Similar to other health and wellness niches, the yoga market has also become increasingly competitive. And without a good marketing strategy, you will find it extremely hard to attract clients to your yoga business.
So, how can you promote or market your yoga business to stand out from the competition and attract more clients? Well, this guide has the answers. In this article, we will share with you 10 effective yoga marketing ideas, which will help you to attract more clients and establish a successful yoga business.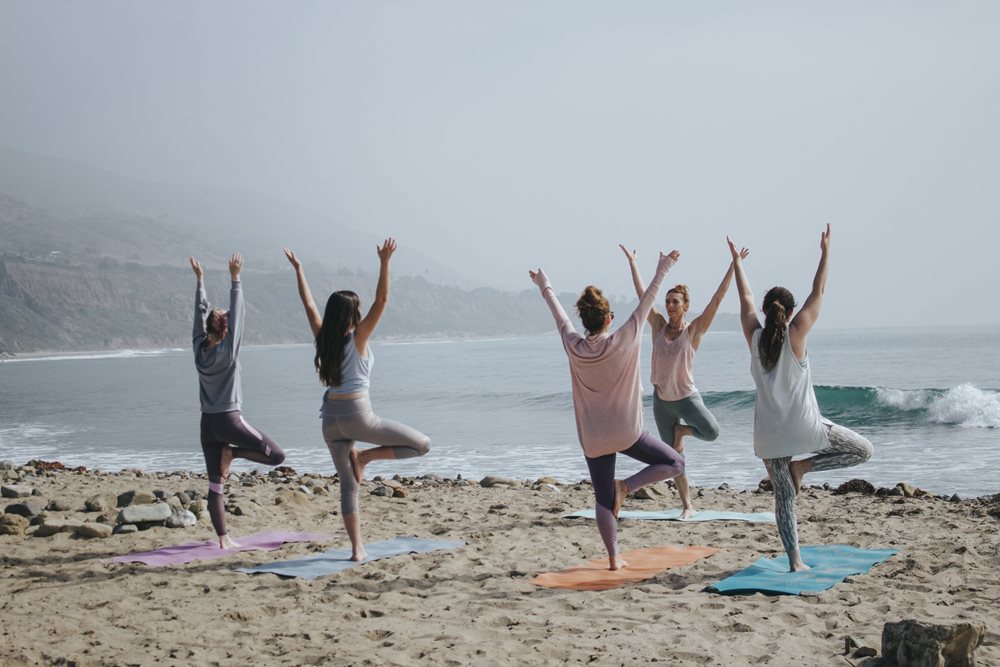 1. Partner With Local Institutions
One of the most effective ways of spreading the word about your yoga business is to partner with local institutions.
For example, if you run yoga classes for young people, you can visit a nearby school and ask the principal whether you can offer free yoga classes to interested students. If the principal agrees, you can then teach the students some basics of yoga. Consequently, your yoga classes will gain massive exposure.
Once the free session is over, you can distribute your business cards or flyers to the participants to take home to their parents. And, there's a high chance that some of the parents will bring their children to your studio and sign up for your classes.
On the same note, if you offer yoga cases for seniors, you can visit retirement homes in your neighborhood and offer free classes. Most people within this age group would love to do some non-invasive stretching exercises, and yoga is just perfect. If the session is enjoyable, you may end up signing up some seniors for your classes.
Also, you can visit some of the local businesses in your community and negotiate with the management about offering free yoga classes to the companies' employees. Doing so will not only increase exposure for your yoga classes but will also make it easier and convenient for the employees to sign up for your yoga classes.
2. Set Up a Google My Business Account
Every yoga business should have a Google My Business Account. Regardless of whether your yoga business is offline, online, a hybrid, small or big, you should take the time to set up a Google My Business account. And the good news is, setting up one is an easy and fast process.
Once you've set it up, your yoga business will show up on a map, whenever a user searches for a yoga studio, classes or yoga retreats in their area. For instance, if a Google user searches something like "yoga classes Tampa, Florida" all the local businesses will show up on a list.
Besides that list, there will be a map displaying all those businesses, and their specific location. And, your yoga classes may be among the results that appear on that list. The user may then click straight to your website, to learn more about your yoga business.
3. Start a Yoga Blog
Another cost-effective yoga advertising idea is to start a yoga blog. If you already have a yoga website, starting a yoga blog will help to bring traffic to the website. And from there, you can then nurture those leads to clients using a yoga sales funnel.
So, can this method help you build your client base? Well, you will be creating content that targets certain keywords and search phrases surrounding the topic of yoga.
For instance, you can create a blog post on how to choose the best yoga tutor or yoga classes. If your blog post is properly optimized, it will appear on the first page of the Google search results, whenever someone searches for information related to those topics.
Next to educational stuff, it can also help to post something a bit more light hearted, funny and/or inspirational, such as yoga related quotes.
And, there's a chance that some users will click on your blog's link to read that article. If the information is relevant, valuable and informative, that individual may end up signing up for your newsletter, to learn more about your classes. Some of the readers may even proceed to sign up for your classes right away.
Marketing your yoga business using this approach will take a considerable amount of time and effort. But, once you start ranking on the first page of search engines, you will enjoy free traffic coming to your yoga website for years to come. Hence, it's more of a long-term yoga marketing strategy.
4. Host Events
Hosting workshops and events can also help your yoga business to attract new students. You simply need to reach out to some renowned yoga instructors from other towns or cities and invite them to teach some yoga classes in your studio. While inviting celebrity instructors may cost you money, it will help to add credibility to your yoga classes or studio, while enticing potential clients to join your classes.
In case you don't have the money to invite a celebrity yoga instructor, you can also put together your own workshop over the weekend. You will then use this opportunity to share the benefits of yoga, teach mindfulness, or even share your personal yoga journey.
The event can be in-person or online. It can also be a combination of both so that you can reach as many prospects as possible. You can use social media channels like Facebook or Instagram to advertise the date and time of the event.
Once the event kicks off, you can then set up a system where the attendees can provide their contact information such as email addresses or phone numbers. You will then use that information to send follow-up emails after the event.
The leads that you generate from such events will be of high quality since most of the attendees are genuinely interested in learning more about yoga. Consequently, the conversion rate will be high.
5. Start a Referral Program
Setting up a referral program is one of the fastest ways of attracting new clients to your yoga business. With this system, you will put in place various incentives and rewards for every student who brings a new student.
For the rewards, you can offer free merchandise or discounts to the new students who refer new students. For example, you can introduce a 30% discount for every student who refers a new member. Assuming that your classes go for around $100, someone who refers a new member will only pay $70 for that month.
So, what makes referral programs one of the most effective yoga marketing strategies? First, they are easy to implement. Second, they only require minimal effort. And third, you will only pay if the new member signs up. Besides, studies show that clients acquired through referral programs have a higher retention rate, compared to non-referred ones.
6. Paid Social Media Advertising
Growing a social media account from zero to thousands of followers takes quite some time. And for a new yoga business, if you only rely on organic social media marketing, it will be extremely hard to attract new clients. Fortunately, paid social media advertising can help you to overcome this challenge.
While you have several social media channels that you can use to launch ads, Facebook remains the most effective for this form of advertising. It's easy to use, even if you have zero marketing skills.
Furthermore, Facebook advertising allows you to set up your ads, to target a particular audience. For instance, you can filter for various demographics like location, gender, age or interests, meaning your yoga ads will be directed to your target audience. You can even optimize the ads according to the device the target audience is using.
When properly set up, Facebook ads will make it easy and fast to reach your target audience, attract more clients for your yoga classes and increase your revenue.
7. Leverage Print Advertising
Print advertising is not only budget-friendly, but it's also one of the most effective yoga advertising ideas to build awareness around your yoga brand in your community. For print advertising, you can use things like leaflets, booklets, posters, flyers, and business cards, as well as other creative forms like calendars.
You can start by designing a 5-10 page brochure, featuring your yoga studio, the services you offer, as well as the prices for your classes. Once you've designed your brochure, you can then print it and produce several copies.
You should then visit places where your target audience hangs out and drop those brochures. For instance, if female yoga practitioners are your target audience, then you can visit the local hair salons, spas or other female-oriented businesses and drop your brochures.
Distributing these brochures or flyers will help to increase exposure around your yoga business, without spending too much money on advertising. And if someone was looking to start doing yoga, your business will be the first that comes to mind.
8. Establish Relationships with Local Businesses
Partnering with local health and wellness business is also a great way to market your yoga business.
For example, if you are a yoga tutor, you can approach a business in your neighborhood that sells supplements for vegans. You can then request whether you can display your marketing materials in their shop while offering to do the same in your studio.
Also, you can set up a referral exchange program between that business and your yoga business. In this arrangement, you will be referring clients to their business and they will be doing the same.
Such partnerships will help you to increase the visibility of your yoga business and attract more clients. And unlike other yoga marketing strategies, you won't have to pay anything for such arrangements.
9. Wrapping It Up
All the yoga marketing strategies we've discussed in this article will help you to land more clients, regardless of the nature of your yoga business. You simply need to pick different strategies, test them and then choose the ones that offer the best return on investment.