Social media is one of the most accessible and rich platforms that you can use for your online marketing campaigns. However, other brands can use it, too. Therefore you have to be a step ahead of your competitors if you want to be among the best.
One of the easy ways to increase your brand's popularity online is to create smart social media template posts that engages readers and establish a way of communication between you and potential customers.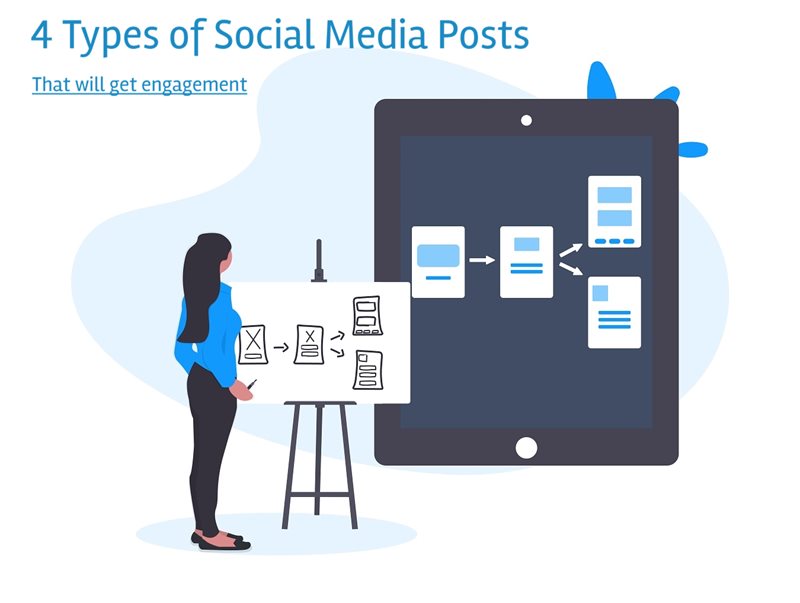 But what kind of posts do get replies or comments?
Here are 4 types of social media templates that will get interaction with your prospects and/or customers.
1. Interactive Social Media Posts
If you want to make that users spend some time on your website, create a poll or a quiz. It won't take you a lot of effort. But is it really that simple? Yes and no. Everyone and anyone is tempted to click on a quiz or answer a poll, as long as the topic is interesting enough and it is presented in an engaging manner. It does not even have to be something controversial or even very original. Browse the web, and you come across polls that asks which is better, apple or orange juice, and such a poll can easily rack up 1000 votes. Find something creative that's strongly relevant to your followers' interests and just give it a shot. It can only help.
2. Videos, Graphics, Photos And Infographics In Your Posts
Visual content is extremely popular right now, and for good reasons. Netizens have a lot of information available at all times, and they don't have the time to read and see it all. You have only a couple of seconds to get a user's attention, before they move on to the next shiny bauble. So visual posts are your best shot of attracting attention in such a way that users stick around for a few minutes. Invest in professional photos and videos, smart infographics and strong brand representative graphics. Your posts will gain loads of popularity before you know it!
3. Giveaways And Contests
There aren't many people I know that would refuse something for free, or that wouldn't be motivated by a fun contest. By organizing contests and giveaways you can easily increase the popularity of your brand and you can encourage social media users to promote your business without too much effort. You just have to get creative about it. Establish a few simple rules for successful participation and have an attractive prize. It works like a charm. An example of a fun contest would be to make the best logo for a fictitious brand, or something similar.
4. Memes And Quotes That Other Users Can Relate To
Social media is full of memes, quotes and other fun stuff, that drives engagement. You can use them to create a relationship between your brand and its fans. Of course, this means that you have to post them every chance you get and to look for the ones that are not only fun, but also relatable. Anyone what it's like to feel hungry in the middle of the night, right? Look for a funny meme about this and post it on your brand's social media page. You will be surprised at how many people like and share the post. You get views and followers almost instantly.
Conclusion
We've only given 4 examples of good social media posts. But there are many other ones that you can think of, if you put your gray matter to work. Once you've come up with something good, you'll probably want to make your new post look awesome, too. So check out some of ContentBASE's promo content to help you get started with that, quickly!